On March 29, 2022, Shenzhen Well-known Brands Evaluation Committee held the 19th "Shenzhen Well-known Brands" evaluation meeting, which reviewed and released the eighth "International Reputation Brands" and the 19th "Shenzhen Well-known Brands". LCF, the brand of Shenzhen LCF Technology Co., Ltd. (hereinafter referred to as "LCF"), was successfully selected as the 19th "Shenzhen Famous Brand" by virtue of its strong brand influence and technological innovation.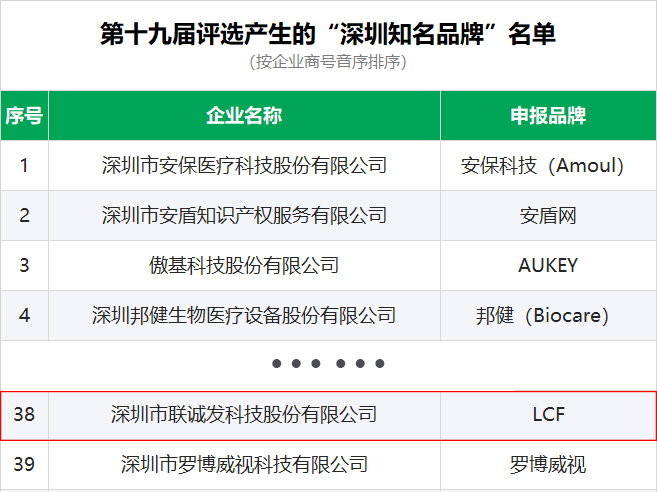 The "Shenzhen Famous Brand" cultivation and evaluation activity is in accordance with the requirements of the Shenzhen Municipal Government [2003] No. 64 document, specifically organized by the Shenzhen Federation of Industry, 25 government agencies, 69 industry associations, 3 research institutions, 12 professional institutions and The two major media groups jointly carry out public welfare activities to promote enterprises to make brands and create famous brands. This activity has been elevated to the principles and requirements of brand building, and has been written into the National Ten-year Quality Development Outline, which has been held for 19 sessions so far. The selection activity adopts the method of voluntary declaration of enterprises and recommendation of industry associations, based on market-oriented evaluation, comprehensively examines various factors such as brand market influence, enterprise internal management system, brand value, industry status, etc., and finally selects "Shenzhen Famous Brand" and "International Reputation Brand". A total of 847 "Shenzhen Famous Brands" were selected in the previous 18 "Shenzhen Famous Brands" cultivation and evaluation activities, accounting for only 4/10,000 of the total number of enterprises in the city, with sales accounting for 49.82% of the city's total sales and 41.95% of tax payments , exports accounted for 35.39%. Shenzhen's well-known brand enterprises have become the main force for the high-quality development of Shenzhen's economy.
In this selection, the Shenzhen Well-known Brand Evaluation Committee conducted a strict review of each declared brand. After on-site evaluation of the internal management system of the enterprise, public voting, industry expert evaluation and brand value evaluation, the whole process was conducted by a notary of Shenzhen Shenzhen Notary Office. Notarized, the final review identified 72 corporate brands including LCF as the 19th "Shenzhen Famous Brand". This is also another major honor that Lianchengfa has received after the national-level specialized and special new little giant enterprise and the post-doctoral innovation practice base.
Lianchengfa won the honorary title of "Shenzhen Famous Brand" this time, which is not only a high recognition and recognition of LCF brand by Shenzhen government, but also a commendation for LCF's silent work in the LED display industry. Since its establishment in 2004, Lianchengfa has been working hard on the hot land of reform and opening up in Shenzhen, constantly striving to pursue dreams, and relying on excellent product quality and continuous innovation in science and technology, it has created countless miracles, not only achieved leadership " "Made in China" is the great dream of going abroad, and with high-quality products, perfect solutions, and excellent customer service, it has established a good image of the LCF brand in the global market, and created the LCF brand. A world-renowned national brand.
Building a well-known brand in Shenzhen and even an international well-known brand is not only an inevitable choice for Lianchengfa to further take off in the LED display industry, but also an inevitable requirement for LCF's great mission of "building a world-class integrated service provider of sound, optoelectronics and intelligent manufacturing". LCF will take this opportunity to shoulder the responsibilities and responsibilities of an industry leader, strive to further enhance brand building, expand brand influence, enhance market competitiveness, and strive to become a world-class well-known brand.
In the future, LCF will not forget its original intention and forge ahead, continue to focus on brand building and technological innovation, and devote itself to providing better products and services for people around the world. Actively carry forward the sense of responsibility of LCF national brand, contribute more to the high-quality development of my country's LED display industry, and to Chinese brands and Chinese manufacturing to go global.