On May 31, Yin Renquan, secretary general of Guangdong Optoelectronic Technology Association, and Hu Wen, chairman of Shenzhen Guangshengde Technology Development Co., Ltd., visited Lianchengfa Shenzhen headquarters for a visit and study. It was warmly received by executives such as Ms. Long Pingfang, the founder and president of Lianchengfa.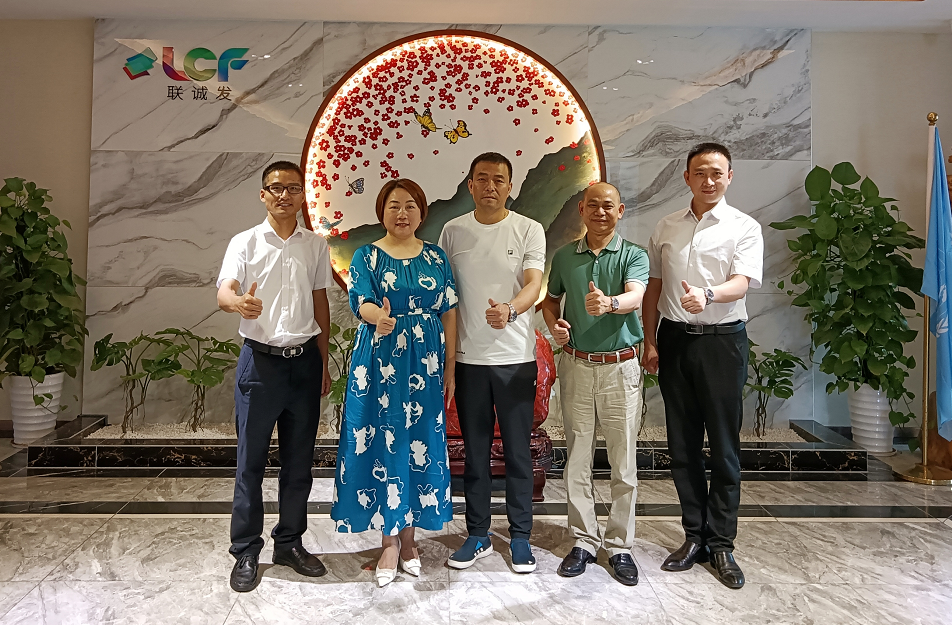 From left: Yin Renquan Long Pingfang Liu Jun Hu Wen Xu Xinhai
Under the leadership of Mr. Liu, he first visited the smart multi-functional scene exhibition hall of Lianchengfa headquarters. The person in charge of Lianchengfa's brand introduced the development history of Lianchengfa, the group structure, and the achievements and honors achieved in recent years. Chengfa has a series of industry-leading innovations such as small-pitch LED displays, 5G multi-functional smart poles, conference all-in-one machines, immersive virtual simulation scenes, transparent screens, stadium screens, and floor tile screens.
The most eye-catching in the exhibition hall can be said to be Liancheng's Zhixian 5G integrated pole. Liancheng's 5G smart city solution-Zhixian 5G integrated pole, covers 5G communication base stations, road surveillance cameras, environmental monitoring, advertising information release, charging piles and other functions. At present, Lianchengfa has built a smart pole ecosystem, smart pole cloud management platform, and 5G smart city integrated solutions based on smart poles in the construction of 5G smart cities in Nanjing, Hainan, Hangzhou and other places. A large number of classic cases. With the continuous development of cutting-edge technologies such as 5G, AI, and the Internet of Things, the boundaries of smart pole applications are constantly being broken. The successful integration of Lianchengfa's smart poles and 5G will promote Lianchengfa's construction in the fields of smart transportation and smart municipal administration. It has a greater role and is also of great significance to the development of the smart pole industry and the construction of smart cities.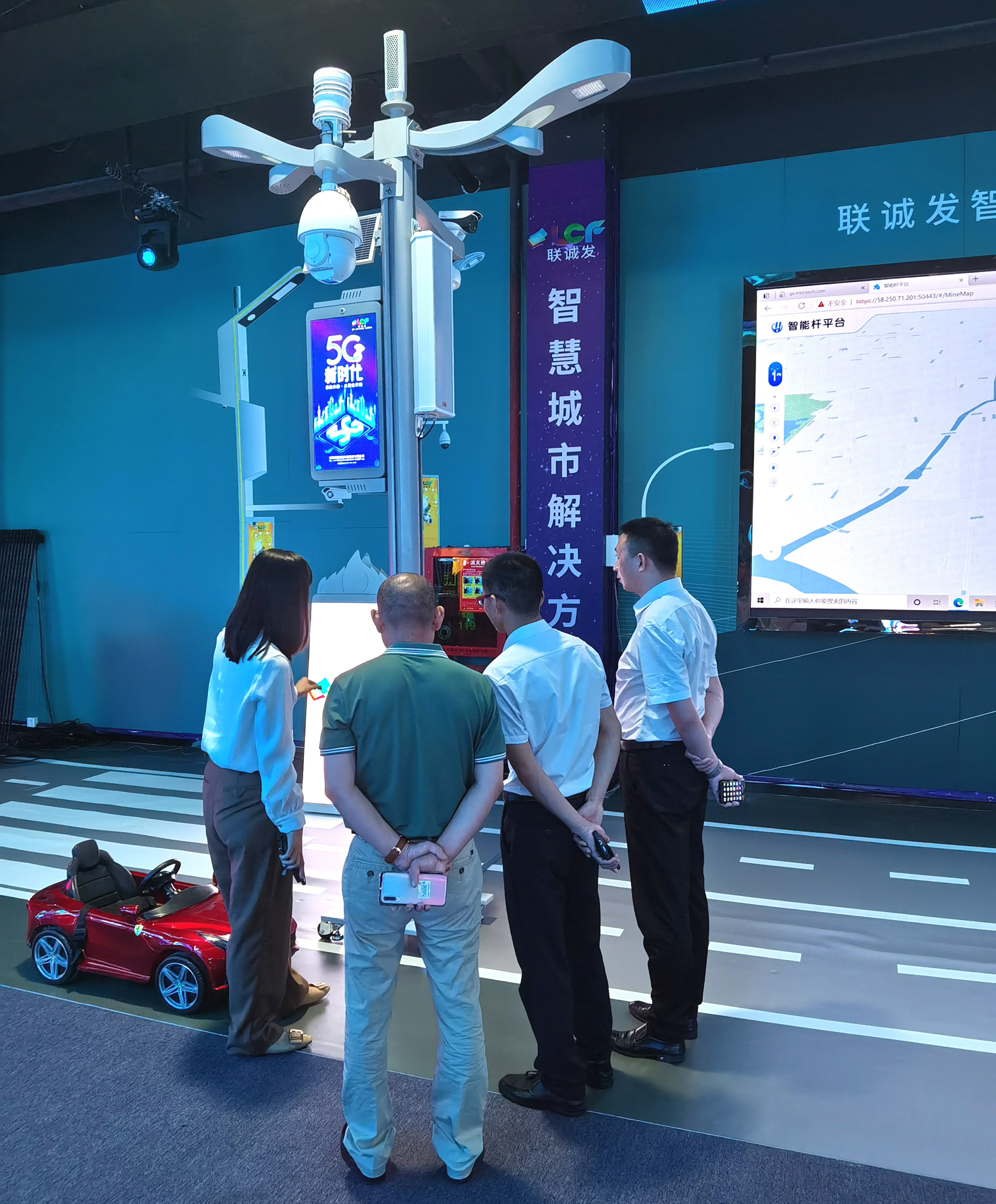 Liancheng sends a smart display 5G integrated pole
Then I visited the Lianchengfa LED Display Intelligent Manufacturing Center to learn more about the LED display manufacturing process and quality management control system.
In addition, Lianchengfa has also been approved to establish a post-doctoral innovation practice base, and has introduced a large number of post-doctoral talents, mainly in the fields of LED ultra-high-definition display technology, Internet of things technology, AI artificial intelligence technology and other fields as its main research directions.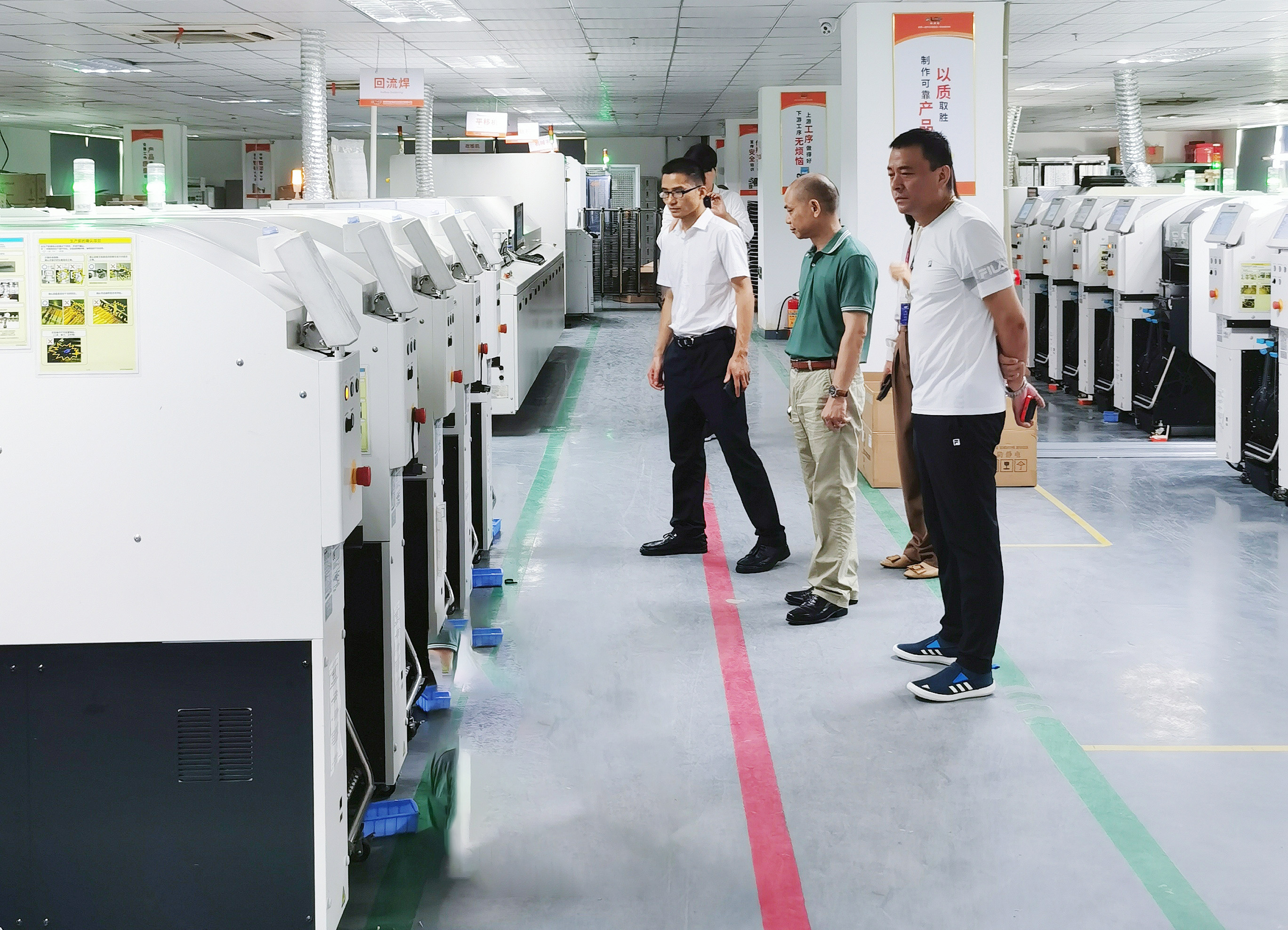 Visit Lianchengfa Intelligent Manufacturing Workshop
During the discussion, Mr. Long said that Lianchengfa will continue to adhere to technological innovation in the future, continue to explore the wider integration of smart poles and cutting-edge technologies, and deepen the fields of LED display and smart pole ecology. He looks forward to cooperating with Guangdong Optoelectronics Technology Association and Guangshengde Company. Carry out extensive and in-depth cooperation. I hope that each other can strengthen exchanges, cooperate closely, and achieve win-win development.
The chairman of Guangshengde Hu Dong highly praised the development and changes of Lianchengfa in the past ten years. Hu Dong said that he had cooperated with Lianchengfa on the automation production line ten years ago. During the visit, he could see Guangshengde Automation. I am very pleased that the assembly line is working as usual. At the same time, it is very optimistic about the LED small-pitch market. Guangshengde has a mature LED small-pitch automation line solution, and hopes to continue to develop in-depth cooperation with Lianchengfa in the next step.
Secretary-General Yin Renquan talked about the recent Guangdong Provincial People's Government's release of the "Guangdong Province's Action Plan for the Development of a Strategic Pillar Industry Cluster for Ultra HD Video Display and Accelerating the Construction of the Ultra HD Video Industry Development Pilot Zone (2021-2025)." The industry is listed as one of the 10 strategic pillar industry clusters, and will vigorously promote the innovation and development of the ultra-high-definition video industry, and strive to build a trillion-level strategic industrial cluster with global competitiveness. Guangdong Optoelectronics Technology Association is the only provincial-level optoelectronics industry association registered with the Guangdong Provincial Department of Civil Affairs. South China University of Technology is the highest engineering college in South China, and its alumni companies have a pivotal position in the field of China's optoelectronic display industry. The Guangdong Optoelectronics Technology Association relies on the South China University of Technology's Optoelectronics Industry Alumni Association to vigorously promote the development of Guangdong's high-definition display industry. It is hoped that Lianchengfa will join the Guangdong Optoelectronics Technology Association to jointly promote the healthy development of China's optoelectronics industry.